Upper Body Wheelchair Exercises
Staying active is essential to maintain mobility and improve your quality of your life. Explore our simple upper body wheelchair exercises & core exercises for spinal cord injury that you can do every day.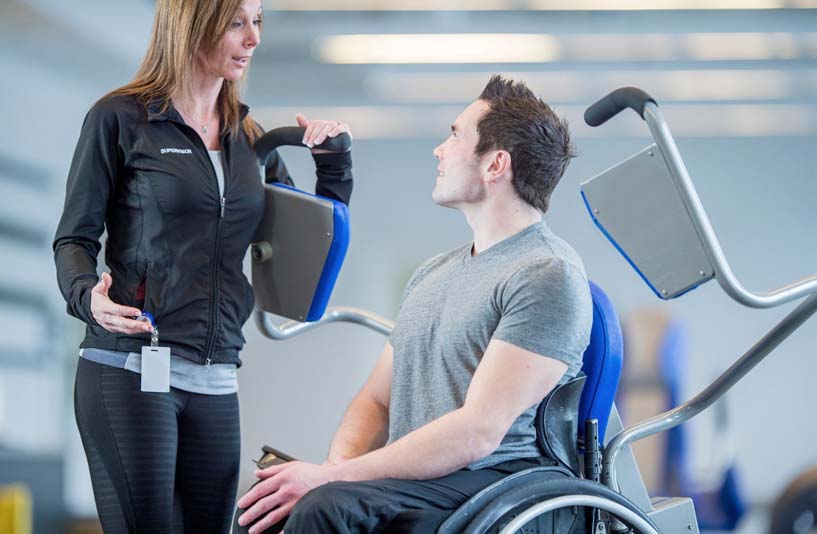 Following your recovery period from a spinal cord injury, you've spent months getting into a routine. But are wheelchair exercises part of your day? Many people in wheelchairs experience weight gain due to a lack of activity and exercise, resulting in an increased risk of many secondary medical issues.
You can avoid these risks and improve your mental and emotional health with a daily wheelchair exercise routine. Best of all, there are many simple and quick wheelchair exercises for weight loss you can do at home. Please note – some of these might require help from your carer or a family member. Consult your medical team and physiotherapists before embarking on a new exercise programme.
Simple upper body wheelchair exercises
The focus of these wheelchair exercises is the upper body area: core, chest, and shoulders. Focusing on upper body wheelchair exercises is vital to maintain strength, flexibility, and stamina, so you can easily get around, complete safe transfers and perform other daily tasks.
Manual wheelchair "roll"
 If you have a manual wheelchair, you'll be getting some exercise automatically. However, it's better to set up a daily time where you roll around the neighbourhood and propel yourself with a manual wheelchair, especially if you normally use a powered model. Start with shorter distances or time intervals and work your way up gradually.
Core exercises for spinal cord injury
 It is critical for those with a spinal cord injury to maintain core strength. There are several core wheelchair exercises you can do, but a good starting point is the seated side crunch:
Whilst seated in your wheelchair, tilt your upper body to one side, making sure your lower body doesn't move at all.
Hold for 5 seconds, then slowly return to centre.
Repeat with your other side.
Start with five repetitions, rest, then do two more sets. Increase as you become stronger.
Upper limb stretches
Maintain flexibility by integrating stretching into your daily routine. One straightforward upper limb stretch you can do anywhere and at any time is a posterior capsule stretch:
Hold one arm across your body, using your other hand to gently pull it across your chest until you feel a good stretch and hold for 20-30 seconds.
Repeat with the other arm.
Do three sets of five repetitions.
These are a few examples of simple wheelchair upper body exercises you can start to do every day. However, it's important to rotate in new activities every day, as noted with core, strengthening, and stretching exercises. Rotating in new wheelchair exercises ensures you hit all the key muscle groups to keep you strong and mobile.
For more advice on living with a spinal cord injury visit Navigator, our dedicated spinal cord injury support service. Once registered with Navigator you'll receive one-to-one support from SCI experts via live chat, telephone, or email. Plus, free and discreet worldwide delivery of bowel and bladder management medical supplies, from Fittleworth.