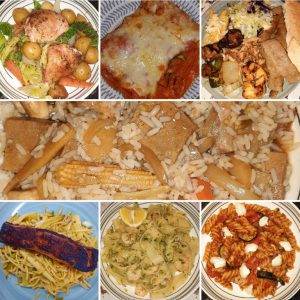 I thought it might be a good idea to talk about the kind of food that I eat and the effect that it has on my stoma output.
The intention was to start a food diary last week, but I had a blockage, and I wanted to show an average week. A blockage is not an average week! In fact, I think it's only the fifth time I've had a complete obstruction. This was followed by a few days of bland and easy to digest food to give my very sensitive and sore intestine time to heal!
I'm only going to talk about evening meals because I'm aware that if I gave you my entire food diary, that would be pretty long and boring. You'll notice that my meals always have quite a hefty portion of carbs. This is because I always try to include veg/fruit, and I need the carbs to thicken the output. I know this from when I had to lose some weight and cut my carbs down. For a healthy, balanced diet, starchy foods like potatoes, bread, rice and pasta should make up just over a third of everything you eat in a day!
In a week, I usually plan two meals with meat; one poultry, one red. Two meals with fish; one white, one oily. Two veggie meals and I leave a day free for a takeaway.
I have been experimenting a lot lately; we tried Hello Fresh and Gousto for a while, and then I started rifling through old recipe books. Now, I'm sharing meals with people in the IBD/ostomy community via the Whisk app, which is what I use to make our meal plan each week. You can join the community and find new recipes/share your own with us, here.
It's important to note that everyone is different. The foods people can tolerate varies a lot, and the effect food has on people will differ a lot too.
So let's head into the meals! I have linked the original recipes, but I've usually made some adaptations. Ordinarily, I would take loperamide before some meals, and use gelling sachets in my bag, but to note the outcome properly, I have skipped both this week!
Baked Ratatouille pasta with goats cheese
This was a new recipe to me, shared with me by a friend via the Whisk app. It always takes me ages to eat anything with insoluble fibre, such as onions and pepper skin. I have to make sure that I chew thoroughly to avoid blockages and/or pain.
The result: I managed to avoid any pain, and the pasta helped slow things down and thicken up my output. It was also undeniably red, thanks to all of the tomatoes! The most notable outcome was definitely the distinct aroma of garlic. I did put 3 large cloves in the meal for two – because I am a bit of a garlic fiend! There were also herbs and very small pieces of undigested vegetables. Lucky I chewed so well!
Mixed meat kebab Takeaway day!
I had what my partner was having for a change, as I didn't want food envy! A couple of different kebab meats cooked in different ways, side salad and pitta bread. Even a few chips and cheese! I don't think I even managed to eat half of it.
The result: I made the mistake of eating some salad and not eating all of the pittas to thicken things up – although I did have a handful of chips and a fair amount of meat! The result was some undigested cabbage and onion, in a pretty loose stool. No pain though, so I am counting it as a win!
Roast chicken thighs with new potatoes and greens

My partner is always telling me that he wants a roast dinner but I rarely fancy one. I thought I would throw a few carrots in this dish for a change, so he almost had a "proper" dinner! I swapped the kale out for cabbage because the last two times I have eaten kale I have ended up in pain.
The result: I am remembering why I take loperamide at this point. It was coming out before I had even finished eating it! Liquid output with undigested veg. I considered what I had eaten earlier in the day to see whether that might have been a factor, but I had only eaten a giant scone with cheese and some jelly sweets. Both of which usually result in thicker output.
Grilled miso salmon with rice noodles

I only tried this recipe for the first time a few weeks ago. I wasn't a fan of the noodles because I couldn't make them not to stick together! This time, I went with egg noodles, and I avoided the beansprouts and had baby corn instead. I also just added some dried chilli flakes. I'm not brave enough for chunks of chilli!
The result: Again, the most notable thing was the odour. When I have eaten fish, I know I have eaten fish! And again, it didn't stay in very long! The noodles should have helped. Sometimes, we just had an off day/week, and I get that, but I do also think it had a lot to do with me not taking loperamide.
Fried pork and mixed vegetables with rice – takeaway

So we had a completely unplanned takeaway because it was just one of those days! I didn't come off the laptop until 8pm and I am used to eating at around 5pm! I was supposed to be making courgette lasagne, but all I really want to do was go to bed, not to stand in the kitchen cooking.
The result: I definitely knew I had eaten garlic again! As usual, a lot of the veg came out as I had swallowed it. Output was a fair bit thicker than the last few days, but there was so much of it! Veg can sometimes bulk up my stool (insoluble fibre does that), to the point where there is noticeably more than what I actually ate!
I had a courgette lasagne when I was in Switzerland which I thought looked and sounded great, but I felt it could have tasted a lot better! So, when I got home, I created one.
The result: Much thicker output thanks to all of the pasta, plus, it didn't immediately start leaving my body! The only thing visible was a few chewed up bits of courgette skin. I don't usually have an issue with courgette skin anyway. Maybe because it's very thin – unlike the blockage causing apple skin from the beginning of the month! That's my best guess anyway.
Lemony prawn & courgette tagliatelle

I had a blockage from a prawn once, so I make sure I always chew additionally well when I eat them. Courgette and pasta again! I didn't have the meals in my meal plan in this order, but I had to rearrange some because of the use-by dates.
The result: A repeat performance of the day before; pasta is my friend! And guess what… I could smell fish and garlic! It wasn't loose, which is always good, especially when eating late as it means there's less chance of a leak during the night!
And that's it. That's my week done! I hope it's been interesting, and I'd love to hear which foods help and hinder you!
About the advice and opinions of our bloggers
We hope you enjoyed this article from our guest blogger. They are expressing their views or knowledge on a topic because of their experience & background. Some of the opinions expressed may not reflect the views of Fittleworth or your NHS professional.
It goes without saying, but this is not clinical advice. Each person will have an individual set of medical factors to consider. So please do not to make significant changes to your diet, exercise or treatments before consulting with a NHS professional.
Sahara was admitted to hospital and diagnosed with Ulcerative Colitis at the age of 19,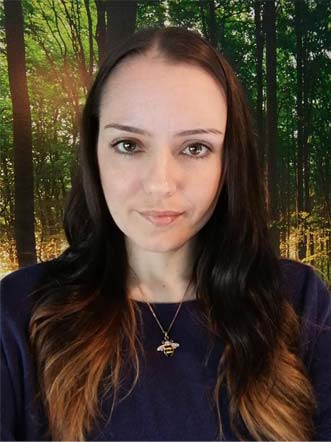 after just two weeks of being incredibly unwell. One week later, she had emergency surgery to remove her colon and rectum, and had her first ileostomy. A turbulent journey followed; a multitude of treatments, complications, seven surgeries, a failed J-Pouch, and three ileostomies later, she is living with a permanent stoma and is a pro-active IBD and ostomy advocate. 
Sahara joined the online IBD and ostomy community in 2014, and it very quickly became apparent to her that whilst awareness is important, even more important than that is providing support to others as they navigate the stormy waters of life with IBD, or an ostomy.
She runs #IBDSuperHeroes fundraising and awareness campaign, and the Facebook support group. She is a blogger for InflammatortyBowelDisease.net and an IBD Patient Consultant for merakoi – bridging the gap between patients and healthcare. She gets involved with research whenever she can, and is a volunteer for Cure Crohn's Colitis, where she donates her time and expertise in social media marketing and content creation.