A Quiche Lorraine is a nutritious part of a meal that provides protein from the eggs and important starchy carbohydrates from the pastry. For those who are trying to gain weight, the cream and cheese from the filling, but also the butter in the pastry help boost your nutrition in a tasty way.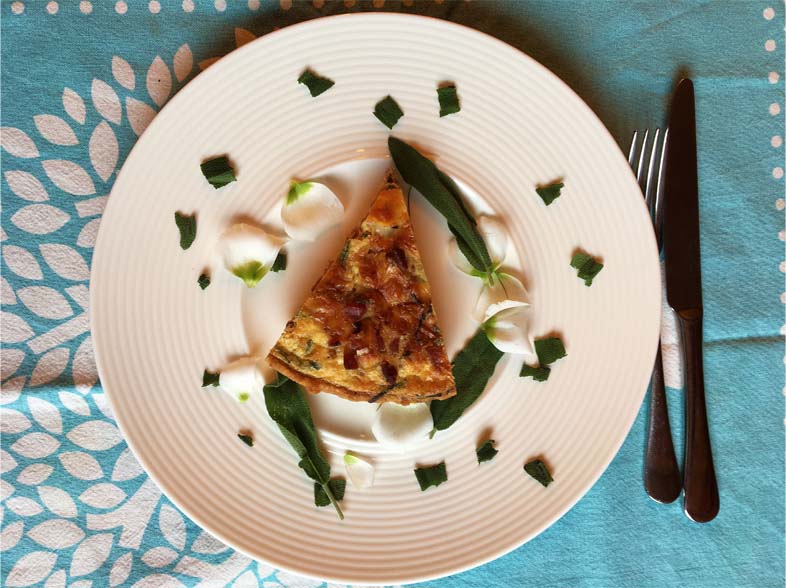 If you're trying to maintain or reduce your weight, a portion of Quiche once a week is a real treat. Enjoy this quiche outside on those warmer days to get some Vitamin D from the sun at the same time!
Ingredients
For the Pastry
250g plain flour
125g cold butter
1 egg
Pinch of salt
For the Filling
1 onion
150g smoked streaky bacon
150g grated mature cheddar
1 sprig of sage
3 eggs
250ml double cream
Salt / Pepper
Method
Pastry
Put the flour, the cold butter cubes and a pinch of salt into a mixing bowl, rub with your fingers until it resembles breadcrumbs.
Add the egg and combine until the dough comes together, cover with a piece of clingfilm and then put into the fridge until needed (minimum 20 minutes).
Filling
Cut the bacon into lardons, slice the onion and the sage leaf then fry in a hot frying pan for roughly 5 minutes or until golden.
Whisk the double cream and eggs together and season lightly with salt and pepper.
To Finish
Preheat the oven to 190ºC. Roll your pastry onto a tabletop dusted with flour to the thickness of just more than a pound coin.
Lay your pastry into a 20cm baking tin.
Cover the inside of the pastry case with triple cling film and put baking beans/rice into the cling film, then bring the cling film up from the edges to form a bundle and bake for 25 minutes.
When cooked, leave to cool for a couple of minutes, then lift out the cling film bundle of baking beans/rice and set it to one side. Turn the oven down to 170ºC.
Place the cooked bacon mix into the pastry case, then top with the cheese.
Pour the cream/egg mixture evenly into the quiche and bake for 30 minutes or until firm and golden at the top.