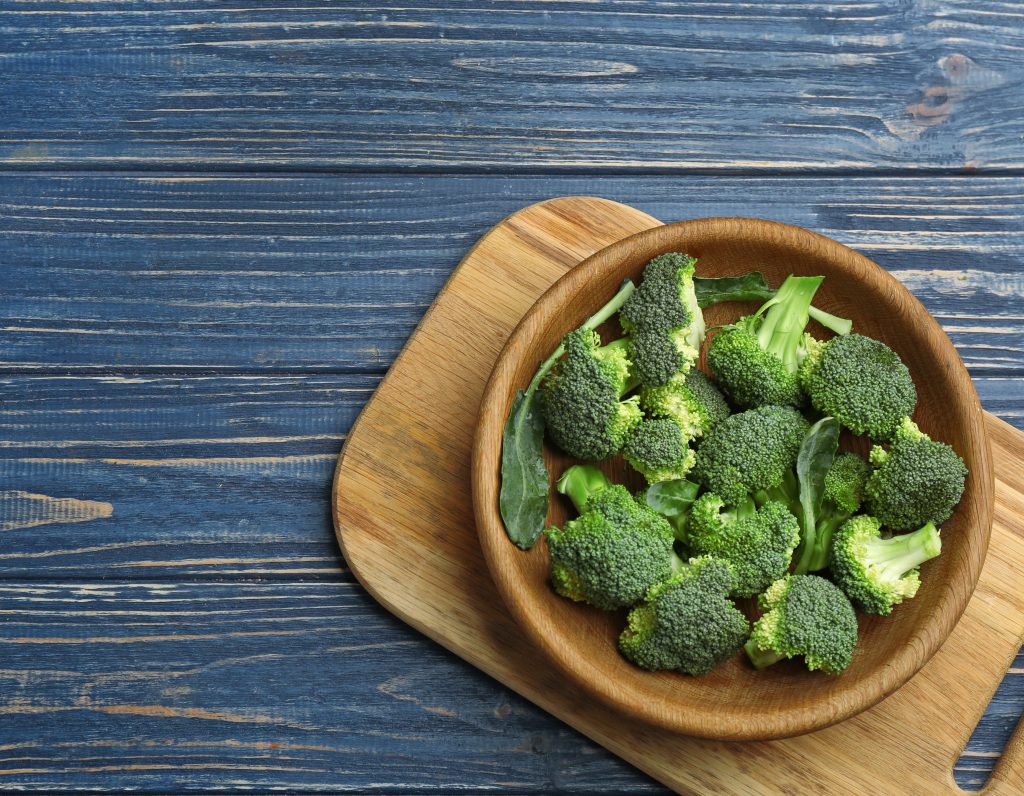 Broccoli Gratin
Serves: 4
Time to prepare: 25 minutes
Time to cook: 40 minutes
Ingredients:
1 large head of broccoli
200g smoked streaky bacon
150g cooked chestnuts
2 garlic clove
30g butter
30g plain white flour
400ml whole or semi-skimmed milk
¼ tsp ground nutmeg
1 lemon
150g grated mature cheddar cheese
50g panko breadcrumbs
Salt / Pepper to season
Method:
Pre-heat the oven at 190°C fan.
Bring a pan of salted water to the boil. Remove the tough stalks of the broccoli, then cook the florets in the water for 10 minutes or until soft. Drain the broccoli.
Cut the bacon into lardons and crush the garlic. In a frying pan, sauté the bacon for a few minutes, then add the chestnuts and garlic, cook for an extra 2 minutes, then add the broccoli for 2 more minutes.
In a saucepan, melt the butter, add the flour, then cook for a minute. Add the milk and make a roux. Add the lemon zest, the nutmeg and half the cheese, taste for seasoning.
Place the broccoli mix into a gratin dish, pour the cheese sauce over. Combine then sprinkle the panko and remaining cheese over the top.
Place the gratin in the oven and bake for 20 to 30 minutes or until the sauce is bubbly and crispy on the top.
Note:
For a richer flavour you can:
Add a drizzle of truffle oil into the cheese sauce.
Replace the cheddar with blue cheese adds a richer flavour.
Recipes developed by our local Chef, Sylvain Gachot.
Sylvain Gachot – Freelance chef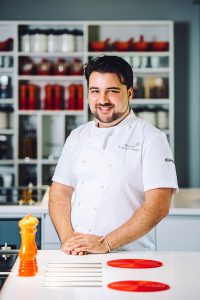 Sylvain grew up in a family vineyard in St. Emilion, Bordeaux, France. His passion for cooking emerged at an early age and was very much influenced by the food and wine from the region. He decided to start his career by learning the trade in a Catering CollegeAfter graduating, Sylvain got to develop his skills in a classic French restaurant. But this was not enough for him. He wanted to travel the world and improve his English at the same time. 
 In 2009 Sylvain joined the kitchen brigade at Lainston House near Winchester. He has worked his way through the ranks to become Senior Sous Chef. In 2015 he was given the opportunity of managing a new project at Lainston House – the Exclusive Cookery School. Sylvain was involved in planning the course schedule, creating menus, doing research on competitors, ordering all the equipment and actively promoting the cookery school. He has enjoyed the time there teaching and sharing his knowledge about food and cooking with many guests and colleagues. Sylvain has been involved in many projects creating bespoke menus for people with specific requirements and restrictions and enjoyed the process of researching and developing recipes. 
When he is not keeping busy in the kitchen, you can find him in his garden, attending to tomatoes, courgettes and strawberries and looking after the flowers.