Curries are sometimes avoided by those with stomas, but there's no need! This recipe provides protein, iron and zinc from the chicken and vitamin C from the chopped tomatoes, but most importantly classic curry flavour.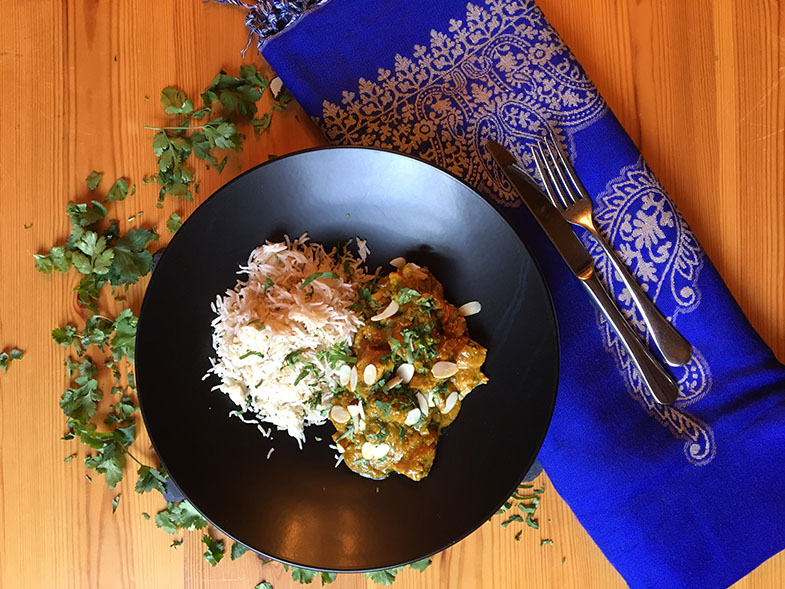 The coconut milk and stock add fluid and salt to aid your hydration, but also dilute the strength of spice and flavour for those an oversensitive gut. The spices can be increased based on your gut's tolerance so go ahead and do some experimenting.
Ingredients
For the Curry
4 chicken thighs
1⁄2 onion
1 garlic clove
40g ginger
1 chilli 1tsp curry powder
50g Greek yoghurt
1tbsp tomato puree
200g chopped tomato
100ml coconut milk
100ml chicken stock
40g flaked almonds
1tbsp coriander
Salt / Pepper
Olive oil
For the Rice
200g long-grain rice
1⁄2 onion
4 cardamom pods
1 bay leaf
1tbsp olive oil
350ml vegetable stock
Salt / Pepper
Method
Curry
Skin and bone your chicken, then dice into small pieces and mix in a bowl with the yoghurt and curry powder.
Dice the onion and the chilli, crush the garlic and grate the ginger.
Fry the onion, garlic, ginger and chilli in a frying pan with a little oil, when soft add the marinated chicken and cook until golden.
Add the tomato puree and cook for an extra minute, then add the chopped tomato, coconut milk and chicken stock and simmer for a further 15 minutes.
To finish add the ground almonds and sprinkle on some chopped coriander, season to taste. You can choose not to add nuts if this is not to your tolerance.
Rice
Wash the rice under running water from the tap until it runs clear.
Dice the onion and cook in a pan with the olive oil, the cardamom pods, and the bay leaf.
When the onions are soft but not coloured, add the rice and cook for an extra minute or until shiny.
Add the stock, season and bring to simmer with the lid on.
Cook for 5 minutes, then turn the pan off and leave covered for a further 10-15 minutes to finish cooking
Check if the rice is cooked and then season, then you are ready to serve.