This butternut squash soup is a light, but nutritious meal or can be enjoyed as a starter.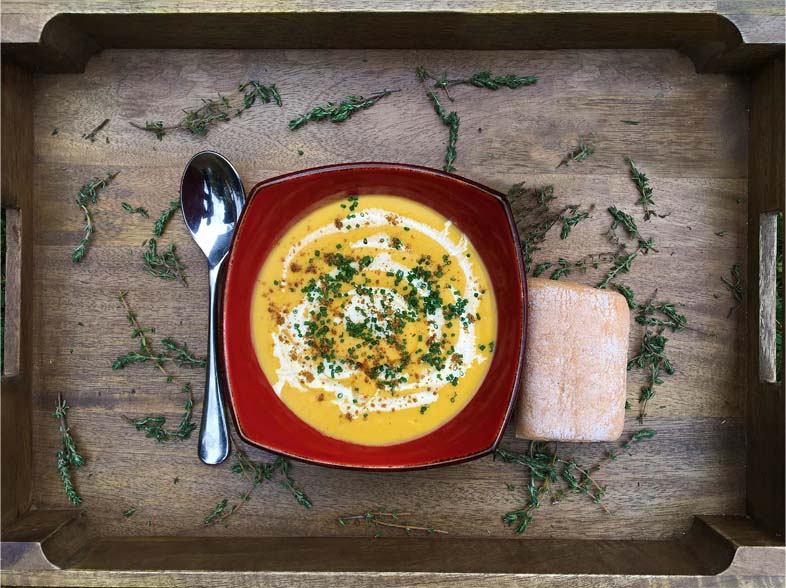 Butternut squash is easily digested for most people and provides starchy carbohydrates that can reduce the chance of a stoma-pouch overflowing.
The vegetable stock adds flavour, but also liquid to help with hydration. While the soup contains onion and garlic, this should be small enough to not affect people, but you can always add 1/2 tsp of asafoetida or "hing" powder instead.
Ingredients
100g butter
1 onion
2 garlic cloves
1tsp cumin powder
1 butternut squash
800ml vegetable stock
100g double cream
Salt / Pepper
Chopped chives
Method
Peel and dice the onion, peel and crush the garlic, peel and remove the seeds of the butternut squash then chop into small cubes.
Heat the butter in a large saucepan and sweat the onion and garlic for 3-4 minutes, or until translucent.
Add the cumin and cook for an extra minute.
Add the butternut squash and cook for a further 5 minutes. Cover with the vegetable stock, bring to the boil and then turn down to a simmer for 20 minutes, or until the butternut squash is tender.
Blend the soup in a food processor until smooth and pass through a fine sieve.
Taste to check the seasoning then add the cream for a nice texture.