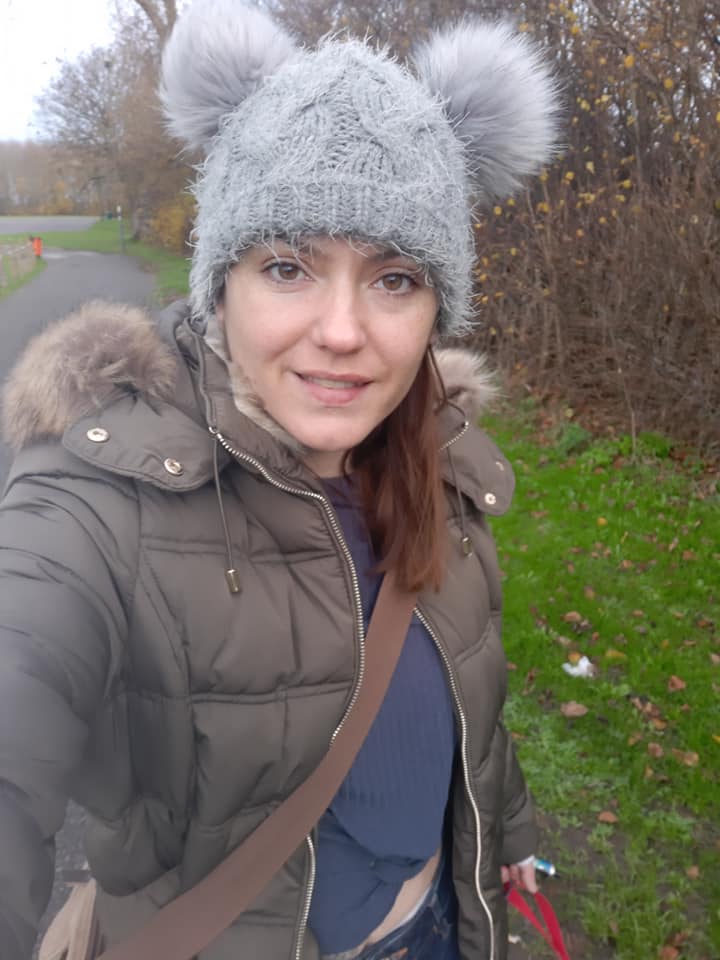 I took my health for granted before I was diagnosed with Ulcerative Colitis. Why would I not? I'd never had more than a cold!
My diagnosis and subsequent surgeries prompted me to take look at my life. You don't realise when you're healthy how much physical activity you're even doing, just going about your day. As a child, I had so much energy. I tried everything going, from ballet and gymnastics to horse riding and synchronised swimming. As a teen and young adult, going out with friends and dancing for hours only resulted in sore feet from the high heels. As I became a "proper" adult, the housework, shopping and walking to and from work were just things that I did on a daily basis, without a second thought.
When I became unwell that very first time, it all happened so fast. I went from first symptoms to surgery within just three weeks! Suddenly, I was laid in a hospital bed, unable to even sit myself up. I remember two Physiotherapists arriving at my bedside and saying "We've come to help you get up and about."
I must have looked at them like they were aliens. I honestly thought that they had come to the wrong bed! I told them as much. They insisted, and I was annoyed. I recall thinking how stupid it was, and that I would show them! They helped me to the edge of the bed, took an arm each, and urged me to stand. I couldn't.
In my head, I must have been getting up and about, to the toilet and things. I was when I first went in! It hadn't occurred to me that since the surgeries (one to remove my colon and the next to clean out the infection in my abdomen), I hadn't needed to. My stoma hadn't worked for a week due to post-op ileus. When it started working, the nurses had always asked during ward rounds if my bag needed emptying. Initially, they did it. Then they started bringing me a nice cardboard hat to empty it into myself. I hadn't needed to urinate because I had a catheter in. In the mornings, they bought me a bowl to wash in…
I can't even put into words how mortified I was when I realised that there was no muscle left in my legs. That recovery was the slowest I have ever had. I was so scared of pushing myself too much. It was also the best recovery in the sense that I had so many moments of pride when I managed to do something again for the first time unaided; bathing, walking up the stairs, changing the bed etc.
The surgeries since then, I knew it was coming. I won't pretend I never got upset or frustrated, especially when it often feels like you're taking two steps forward and one step back, but I always knew that I would get there in the end. That first surgery, I'd doubted that I ever would!
Even after 6 previous surgeries, I still messed up with the physical recovery of the most recent one. I was making sure I got up and walked around, and I started taking longer walks gradually, but one area of my abdomen constantly felt like it was pulling and getting sore. So much so, that I avoided the pain and kept using my arms to pull/push myself up. It was only when I pulled my back and had to see a Physio that I was made aware that this was a consequence of avoiding using specific muscles. Doh!
A whole year on from ostomy surgery, I was having to start from the very beginning. I had to build up very slowly because my actions had resulted in a really weak core, abdomen, and lower back. I started by doing very gentle yoga, just stretching the area a little, and increased the exercise over a period of time. When I had to begin actually using the muscles, I used a bespoke hernia prevention belt from CUI wear for additional support.
I walk the dogs and do yoga on a daily basis now, but I am still working on increasing my strength and stamina! It's a shame that exercise is not covered more thoroughly before and after surgery by our healthcare team, for most of us.
I asked the community what their experiences had been, and whilst many had managed to return to their "usual" activity eventually, they hadn't had any advice from their hospital stoma nurses or specialist teams. I just don't think it's good enough! Many have managed to return to swimming and cycling, and even weight training, but a fair few did say that they are still wary of doing any abdominal exercise. Most got the most useful tips and tricks from other ostomates, and whilst I do think that peer recommendations are useful, sometimes, you need medical guidance. Not everyone has access to online support to even gather such information, and there's always the possibility of someone giving poor advice and causing someone harm! The few people that had seen a physio had paid privately to see one!
This is why I was so pleased to see Fittleworth's new brochure, Simple Steps – expert advice from qualified physiotherapists! We're not talking a pamphlet here. It's a 100-page brochure, detailing why it's important and what we can do to aid our recovery, pre and post-op. It covers specific exercises to do, self-evaluation, goal setting, and lots of supporting information. I genuinely think that it would have been so useful for me, and I will be recommending it to others in the future! 🙂
Let us know what your experience was like, and if you're using Simple Steps, let us know how it's going! Use hashtag #SimpleSteps to share your journey on social media!